Serious steampunk...

Steam-powered 1884 car will be auctioned at Pebble Beach in August.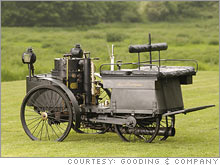 There's a real and defensible appeal to this kind of technology. Like the 78, the push-lawnmower, the Model-A, and the Singer treadle sewing machine, it represents a moment when technology still represented individual tinkerers' idiosyncratic imaginations and practical building skills, the hope that technology could make life better/easier, and a sense that technology could be beautiful via functionality, rather than cosmetics or marketing.